Radiant Orchid
PANTONE 18-3224 Color of the Year 2014
An invitation to innovation, modern and versatile Radiant Orchid encourages creativity and originality. Imbued with a harmony of fuchsia, purple and pink undertones, Radiant Orchid inspires confidence and its rosy undertones emanate great joy, love and health.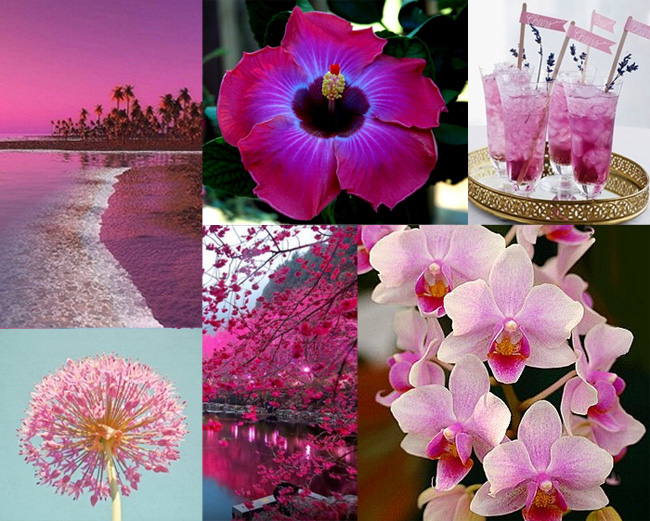 I created a mood-board on Pinterest about this color, here's a selection that inspired my design for the logo of
the Tropical Fusion a blog-hop. Then I did some research on Color and  Physics!
 I looked at the color values of Radiant Orchid's  formulations and realized it was 19% Cyan (blue) and 70% Magenta (red)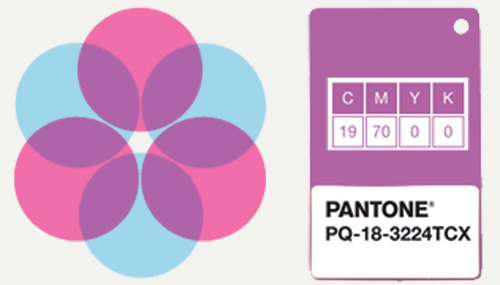 In some way it was like a mariage of these 2 colors, brilliant!  Ah, …so RADIANT
…of course a Tropical Fusion, it was worth a hop. A blog-hop!
 …and thus was born the logo and branding image for TROPICAL FUSION, a color-pattern blog-hop!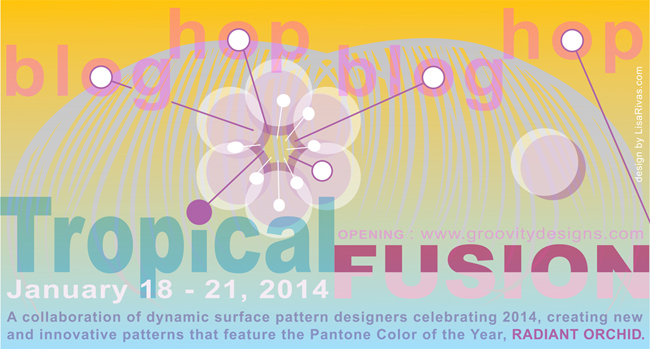 Keep yourself tuned in, since there is more to come!
So many fabulous surface and pattern designers will have something so special!
Starting this coming Saturday – January 18 – What a treat!
---
 List of fabulous designers and their blog posts participating in this fun event!
Mary Tanana  http://groovitydesigns.com/2014/01/18/tropical-fusion-bloghop/
Lisa Rivas http://lisarivas.com/blog/tropical-fusion-bloghop/
Carrie Tasman   http://www.tasmanstudio.blogspot.com/2014/01/bloghop-tropical-fusion.html
Anne Bray  http://repeatsamb.blogspot.com/2014/01/tropical-fusion-blog-hop.html
Dawn Clarkson  http://niceandfancy.blogspot.com/2014/01/its-here-tropical-fusion-blog-hop.html
Maike Thoma  http://patternjots.blogspot.ch/2014/01/blog-hop-tropical-fusion.html
Claire Lordon  http://www.clairelordon.blogspot.ch/2014/01/tropical-fusion-blog-hop-featuring-my.html
Nina May  http://ninamaydesigns.blogspot.com/2014/01/nina-may-designs-tropical-fusion-blog.html
Tina Devins  http://www.dreamingonastar.com/blog/tropical-fusion-blog-hop/
Sherry London  http://digitalrepeats.com/bloghopblopjan14/
Lindsay Buck  http://slumbermonkey.blogspot.com/
Jessica Wilde  http://blog.jessicawilde.co.uk/welcome-to-the-tropical-fusion-blog-hop/
Jan Shepherd  http://www.patternmuse.co.uk/2014/01/tropical-fusion-blog-hop.html
Lesley Todd  http://www.finchfive.co.uk/tropical-fusion-blog-hop/
Jennie Whitham  http://jlwillustration.blogspot.co.uk/2014/01/tropicalfusionbloghop.html
Trina Esquivelzeta  http://www.surfacehug.blogspot.co.uk/2014/01/blog-hop-tropical-fusion.html
Joni Barriere  http://www.studiolulu.com/2014/01/tropical-fusion-blog-hop.html
Kath-Kath http://www.kath-kath.com/news/
Anneline Sophia  http://www.annelinesophiadesigns.com/tropical-fusion-blog-hop/
Onneke  http://onneke.blogspot.co.uk/2014/01/tropical-fusion-blog-hop.html
Rebecca Stoner  http://rebeccastoner.co.uk/tropical-fusion-blog-hop/
Anna Berger  http://designannaberger.wordpress.com/2014/01/18/tropical-fusion-blog-hop-2/
Ludmila Adams  http://fashionchalkboard.com/tropical-fusion-bloghop-2014/
Bethania Lima  http://bethanialimadesigns.com/tropical-fusion-blog-hop/
Nandita Singh  http://nanditark-lifeiscrafty.blogspot.in/2014/01/tropical-fusion-bloghop-2014.html
Jacqueline van Roosmalen  http://colourbookstudio.wordpress.com/2014/01/17/bloghop-2014-tropical-fusion/
Jolene Heckman  http://joleneheckman.blogspot.com/2014/01/tropical-fusion-blog-hop.html
Deborah Velasquez  http://deborahvelasquez.blogspot.com/2014/01/tropical-fusion-blog-hophave-visit.html
Jennifer Rogers  http://www.jenniferrogersdesign.co/2014/01/18/topical-fusion-bloghop/
Femi Ford  http://www.femiford.com/blog/2014/01/welcome-to-the-tropical-fusion-bloghop/
Tina Olsson of FYLLAYTA  http://fyllayta.wordpress.com/2014/01/18/the-tropical-fusion-blog-hop/
Chickaprint by Marie Delisle Holmberg  http://www.chickaprint.com/2014/01/17/blog-hop-tropical-fusion/
Chloe Wood  http://chloewooddesigns.blogspot.co.uk/2014/01/blog-hop-2014-tropical-fusion.html
Daniela Butunoi  http://creativedoodlez.blogspot.ca/2014/01/tropical-fusion-surface-pattern-design.html
Nika Martinez  http://www.nikamartinez.com/tropical-fussion-blog-hop-2014/
Ellie Fidler  http://www.elliefidler.com/2014/1/18/Radiant-Orchid.html
Wini Dougall  http://www.artloveandjoy.blogspot.com/2014/01/tropical-fusion-blog-hop-2014.html
Virginia Njeri Kamau  http://virginiakamau.blogspot.com/2014/01/tropical-fusion-blog-hop-2014.html
Rosie Simons  http://rosiesimons.blogspot.co.uk/2014/01/tropical-fusion.html
Muy Majo  http://muymajobv.blogspot.com/2014/01/bloghop-tropical-fusion-caribbean-sea.html
Leska Hamaty  http://www.leskahamatydesign.com/1/post/2014/01/tropical-fusion-blog-hop.html
Lisa Deighan  http://lisadeighan.com/?p=564
Kim Gann  http://kimgannart.com/tropical-fusion-blog-hop/
---
"What a sad era when it is easier to smash an atom than a prejudice." ― Albert Einstein 
---